Posts tagged 'creativity'
In today's Daily Guideposts, contributor Shawnelle Eliasen shared a special moment she had with her "near adult son." Even though they had experienced some growing gaps and family hurts recently, he invited her to come into the living room and listen to his latest musical creation.
Shawnelle wrote,
"This invitation was everything…
Finally my son invited me into a tender part of his life.
The place where music lives
and creativity runs free.
A gentle place.
A place of peace."
She thought back to the days when he was young. When his fingers first curled around a pencil and later around a steering wheel. She thanked God for those fingers that now played the beginnings of an original song – and invited her to come along.
Where is your gentle, peaceful, tender place?
What or who shares the place where your creativity runs free?
Who might you invite to enter – to join you there?
Someone who'd love to share your company in that place.
Think about it.
Thanks for visiting
my "Tender Place" here on WP.
See ya later.
Where do words come from?
When you google that question,
you realize how new the verb, "google" is!
Of course, you know how that word, Google, originated.
It was those 4 or 5 guys in a garage, right?
But what about the word "zany"?
Where did it originate?
Shakespeare!
Shakespeare had an incredible influence on the English language and invented "zany" – as well as hundreds of other words we still use today.
Here are some of the more than 1,700 words first used in Shakespeare's writing: 
amazement
bedroom
champion
dawn
eyeball
fashionable
gossip
moonbeam
olympian
puking
swagger
unreal
zany
Wow! Shakespeare!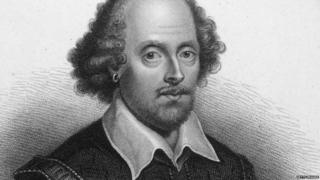 He was sooooo creative!!
(That's an understatement)
We'll never know exactly what Shakespeare looked like,
but many portraits share similar features. This one is a Getty image.
Here's an image of Zany Me:
How zany can you get?
You have to "SnapChat" it before you get
those ears and eyelashes – and such smooth skin!
Do you know SnapChat?
It's one of many programs out there that
help us creatively present ourselves.
Internet Writing Programs
Sometimes we present ourselves visually with doctored images (like the one above).
Do we "doctor" our verbal images of ourselves, too? Microsoft Word is one of many programs in this technological world that allows us to spice up what we say and how we say it. I love using their templates. In addition to Microsoft Word and other well-known programs, I recently discovered Google Docs. Do you know about that app?
I have Google Docs on my iPhone.
Do you use that program to
create and edit documents on the go?
You can "get stuff done"
(how's that for creative word usage?)
with or without an internet connection.
You can write on your own – or invite more people to contibute.
My granddaughter, Faith, used Google Docs to write her
paternal (DeAngeles) Family History.
Her dad is our son, Ty.
Faith sent the Goodle Doc to me to see and edit.
It's a great program.
Descriptive Words
Particular words jumped out at me as I read Faith's geneological study that included health histories of her grandparents, parents, siblings, and aunts/uncles:
heart attack
valve replacement
Valley Fever
arthritis
cancer
diabetis
high cholesterol
These medical issues and troublesome words don't describe the people, or
the beauty,
the personalities,
the faith,
stamina,
and creativity of the family.
Where do we make sure such characteristics make it to the printed page and live on in history?
Signature Vocabulary
As a writer who has created a blog, YOU can be sure the beauty, the uniqueness, and the zaniness of your personality and your loved ones lives on. You can create a legacy for your family; one that tells more than birth, marriage, children, illnesses and death.
What words might people attribute to YOU? Have you a signature vocabulary? What do you want folks to remember about your family?
My precious husband, Bob, may not have invented the word, "Foo-Foo," but his use of it for someone's name is becoming a signature of his.
"You know, help me out, Foo-Foo was just over there by the Wuch-a-me-call-it. You remember!"
Uh, can you help me out a little more! Who and/or where?
He makes me laugh!!
The older we get, the more "Foo-Foos" there are in our lives!
Yes, words are our trademark. Just as identifiable as our fingerprints.
I don't think I've actually invented any words, though. Have you?
Using Words Creatively
Do you use words in unique ways?
My blogging friend, Dorothy (deyspublishing.wordpress.com),
posted today  about pouting clouds. 
I said they were pouting and spouting.
Giving animate qualities to inanimate objects is a great use of words. I love the way many poets do that. They attribute people qualities and actions to things in nature… animals, clouds, unfriendly chairs.
My iPhone has a dictionary app that allows me to look at synonyms and antonyms as well as definitions. You probably have that app, too. It's a great tool for finding ways to creatively use words.
Sharing Creative Writing With Others
In addition to sharing my writing on WordPress, I belong to a writers' group. We meet every 1st & 3rd Friday. Our first 15 minutes is a Free Write on a topic we draw out of a hat.
I think when next we meet, we should have a list of original Shakespearean words and see if we can select six (or so) of them to weave into a story – with instructions to try and add one more – an "original" – one of our own.
Doesn't that sound like fun?
Try it! Share your zany new word with me!
Have a whimsical*, zany weekend!
See ya tomorrow
*Whimsical is a Bob Goff "signature word" in my mind. Have you read his book, Love Does? I highly recommend it. Talk about a "wordsmith!"
Welcome to Day #9 in the A-Z series,
"Adding Meaning and Finding Purpose in Life."
Today's letter is "I"
Imagination + Intention = Inspiration

It's hard to imagine a child without imagination.
The sky's the limit when it comes to their ability to play make-believe.
Mary Ann & Frederic Brussat in their book, Spiritual Literacy, wrote,

"Give imagination free rein in your life.
Explore its images and ponder its meaning-making moments,
and it will always present you with something
new to be seen, felt, or made known."
Photo by Porapak Apichodilok on Pexels.com
The Imagination of a Child
Our little Superman with the plastic cape reminds me of our 4 year-old friend, Cord. He can turn a beanbag chair into a pirate's cave in two seconds. With the intention of hiding from his Sunday School teachers when we walked into the room, his imagination takes hold, and under the beanbag he tucks himself, and with a flurry and a pirate's roar jumps out to surprise us. Of course, we always fake surprise – and welcome the pirate onto the children's wooden bench in the classroom.
Can We or Will We?
The question is not, "Can we imagine things as little chldren do?" The question is "Will we?" Will we keep our imagination alive and allow it to help us see the pirate's cave in the beanbag chair? Will we maintain the intention to use our imaginations to inspire us to greater creativity?
In the Bible, Matthew 18:1-4 says, "At that time, the disciples came to Jesus and asked, 'Who is the greatest in the kingdom of heaven?' He called a little child and had them stand among them. And He said, 'I tell you the truth, unless you change and become like little children, you will never enter the kingdom of heaven. Therefore, whoever humbles himself like this child is the greatest in the kingdom of heaven."
Jesus was not suggesting the disciples become "childish." He was telling them they need to be "child-like." There's a big difference.
To be "child-like" is to be humble. It is to be imaginative and playful, happy and trusting, open and engaged. Will we allow our imagination free rein to help us see things anew, feel things more deeply, and know people more openly? Can we? Will we?
Imagination used with positive intentions is magical! It is one of the keys to living life more fully with greater joy.
Add the Magic of Intention
Imagination becomes indescribably incredible when it is applied intentionally to create a better world around us.
Some one had to imagine that first wheel and intentionally chisel away the squareness of the stone to make it round so it would roll, don't you think?
Someone had to look at this world as it is and decide, "That's not the way I want it," and intentionally create a way to improve it. They imagined a clock before a clock was developed.
They imagined a computer smaller than the one that took up a whole room before the Apple was invented. They imagined a computer combined with a phone that could fit in the palm of your hand. They used their imagination with intention and were inspired to see if that fictional Dick Tracy watch that I grew up seeing in the comic books could actually become a reality.
Imagination needs intention
before the two can equal
the inspiration that
changes your life and mine.
You Decide
Some changes are positive. Some are not. Everything in this world can be used for good or evil. It is up to us to decide how we use our imaginations. What intentions we have.  What thoughts linger and direct us. And where our inspiration leads us.
I pray that
we can use our gift
of imagination
to inspire us
to fulfill our purpose
intentionally
and glorify God
each day
of our indescribable,
incredible lives.
Don't you?
Will you imagine that?
‬‬
Renee/Heart Tokens  was nominated by Amy for the "Tell the Story Challenge" created by The Eclectic Contrarian
There were 2 pics she gave, and Renee chose the one that spoke to her the most.
Then Renee posted two pictures and invited her readers to join the challenge.
I decided this sounds like fun… and so I am joining in.
Here are the Rules:
Pick one of the images given to you, write whatever comes to you. Short, long, funny, sad … a tribute to someone, a poem, a song. Then choose two or three images and some nominees and keep the ball rolling.
 This is the image I chose – and I selected Haiku as my genre:
God's Gift
Going to war is hell
Only music can save us
God seemed to know that
Here are the three images I choose for your selections:

And here are my nominees:
5. Anyone of you – my Ideal Readers – who wants to join in. Do!!
Sorry, I can't seem to erase these items that were transferred from Renee's original post:
Renee/Heart Tokens
  … so just ignore this bottom part! But, do click on Renee's title in red here and see the picture and story she posted.
Good morning, my friends!
It's a Wonderful Wednesday!
Find a way to give.
My friend, Steve, has no trouble finding neighbors who need
their driveways shoveled or blown out. What a gift that is!
Volunteering to help others is giving back … or paying it forward! Someday Steve won't be able to do this anymore. Then, hopefully, someone will volunteer to shovel or blow out HIS driveway!
Look at the book my daughter sent me:
I bet you have a story to tell about some "giving" you have done.
I try to give daily, so when I received this book, I thought,
Why not write about it?
Sous-Cheffing
I love working at our Senior Center as a sous chef (that's a fancy name for potato and carrot peeler. salad maker, and onion slicer). I can pretend I am at a fancy Paris Bistro… and my customers are the most precious children of God! (Actually, they are!)
Visiting Shut-ins
Another way to volunteer your gifts is to visit a friend who is in a nursing home or at the hospital. Anyone can do that! It doesn't take lessons or months of practice. Just an open heart, and a wiilngness to treat yourself to the infectious smiles your visit will bring.
In our little town of Ennis, Montana, I introduced you day before yesterday to Artists on Main, the wonderful art gallery with its amazing variety of locally created art for sale. We are blessed to have that shop… and if I had the ability to paint or sculpt or whittle or create pottery, jewelry, or stained glass, I'd use that talent to provide items for my friend, Carol, to sell… or I'd visit a friend and bring a product of my creativity as a gift.
Share Your Writing
But, that kind of art is not my forte'… I love to write, so I share my blogs orally with friends in the hospital. I read "Art is Life" to one of my dear friends this morning.
Play Your Instrument
Before going to the hospital, I shared another one of my gifts: the accordion. Do you play an instrument?
I started learning to play the "squeezebox" when I was about ten years old. (Every good little Italian girl or boy played the accordion in those days!) Now, it is a seldom seen (in person) whimsical, portable instrument that can bring joy wherever it goes!
This one is over a hundred years old.
I bought it from Frankie, my sorta cousin, about 70 years ago.
It still works, but with only 8 buttons, you are limited to songs in the key of  F, C, G or A.
Many people today have never seen or heard an accordion played in person. They think of Lawrence Welk and expect me to play Flight of the Bumble Bees or The Beer Barrell Polka with bellow shakes.
Once upon a time, I actually could play those advanced pieces. But now, I am content to accompany the hymn singing at church when the piano or organist is ill or out of town… or accompany singing at the Lenten Breakfast where no other instrument is available. (I did that early this morning).
In the summer, I entertain  at our Art Festival in the park.
Sometimes I pull it out at home after dinner with friends
and we have a sing-along.
It makes for a memorable evening.
If music is not your forte', think of other ways you can give.
I belong to the Madison Valley Medical Center Auxuliary. Sitting at the desk a couple of Fridays each month is one way I can volunteer. Donating our home for the "Home Tour" fund-raiser is another way. Our auxiliary earns thousands with that fund-raiser every year and gives the benefits back to the hospital for new equipment, beds, sheets, and other needs. It's gratifying to be a volunteer. I'm in the center, middle row here.

I hope you will consider ways you can volunteer your talents
for the benefit of others.
Perhaps you already do – in ways different from mine.
Tell me about a way you volunteer
or give back.
Does it express your purpose and passion?

Your story may inspire others!
On a cold and frosty Montana morning
I sit in my sanctuary – surrounded by angels
And the stillness within and without
Takes me to my inner sanctuary
Come and join me this morning
In the beauty of a winter day
From the warmth of my Angel Room
My place of respite, where the Holy Spirit dwells
The sky is dark and we're in a cloud
The angels within sing quietly; they're never loud
Jesus prays with me from His place in my cloud
And reminds me that FAITH is not for the proud
With humble appreciation, I think of the faces
Who surround me with love in these heavenly spaces
I thank God for the trees all frosty with glitter
I dream of the people gone before me – they flitter
In and out of my prayers, like the three angels here
They remind me of prayer partners far away, yet so near.
I think of the gifts of poets and artists
The angels surround me – sending thoughts that are part of us
Some are melancholy, reminding me of my sins
Others are joyful, and my gratitude spins
I remember the angel who decorated this egg
And all the other creative friends – Watch over them, I beg
Help my friends who are ill and need special care
Shine Your light on them… let them know You are there
Bring them comfort and health and wisdom galore
Hold them close to Your Heart, Lord, give them so much more…
… than ever they dreamed of; like the birds of the air
Let them know you are with them; show them how much You care.
As the darkness subsides and the blue sky emerges,
Send them all Your GREAT LOVE that in my heart surges…
Great love for the angels that brighten my day.
And now, my dear friends, I send some your way!
Go on your blessed, lovely, angel-filled way!And thanks for joining me in my sanctuary today.

Hugs from JanBeek